Your Conversion
This is the complete Walter Camper Van Conversion for the RAM ProMaster 1500 or 2500, 136″ wheelbase, high roof van. We can install your conversion in an empty new or used cargo van (years 2014 to present).


What's included:

Foundation
floor, cargo tracks, walls, 100% wool insulation, soft panels

Furniture
kitchen galley with fold down leaf (includes 5-gallon fresh and gray water tanks, sink and hand pump) storage cubby, high-back boot box, Lagun swivel table, bungee shelves

Bed
upgraded 5" thick memory foam mattress (54" wide x 6'1" sleeping surface), bed platform has grooves for ventilation, and the platform extends all the way to the back door.

Finishing Touches
integrated LED puck lights in the ceiling, insulated partition to separate the cab, magnetic window coverings for your rear factory windows

Want More? Don't worry, you can add accessories if you want to as well.
Adaptable and Modular Layouts

The galley can fit on either side of the van.

You'll select from our preset layouts for your install day, but all you need is a socket wrench and a few minutes to reconfigure all of your components.

Need to use your vehicle as a cargo van? You can easily remove and reinstall all of the furniture.
Quick Installation

Our conversions are completed in one day – so no need to leave your van parked at our shop for weeks on end. We build everything before you arrive, so our installs are as quick as possible.

Our waitlist for install appointments ranges from 2-9 weeks.
Quality Construction and Materials
Wayfarer Vans' trusted dealer partners provide a concierge-level service to find you the right van with all your desired features. New dealership vans start at approximately $50,000, excluding our conversion. A baseline ProMaster works great for our conversions, and for those wanting all the features recommended by our team, we suggest adding the SLT Package, Premium Convenience Group, and Advanced Safety Group. Here are a few of the features we love that come with these three combined options:



ParkSense rear park assist system

Blind-spot and cross-path detection


Windows w/ defrosters in rear doors

115v auxiliary outlet in dash

12v outlet in the rear cargo area

10.1″ touch screen monitor


Power folding/heated mirrors


For more information on ordering a new van and wrapping the cost of the conversion with your vehicle loan, drop us a line on our contact form.
Why We Like This Van
The RAM ProMaster 136" wheelbase high roof van is the longest running van in our lineup, and we think it is the perfect adventure vehicle. It is more compact than our other vans, but still packs a big punch with features and capabilities.
Reasons you'll love this van: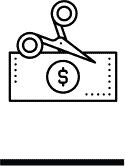 Affordability
It's the most affordable vehicle in our lineup.
Miles Per Gallon
Best MPG of the vans in our lineup.

Short Wheelbase
It has the shortest wheelbase of our vans, making parking in tight areas easier.

Shorter Wait Time
ProMaster vans tend to have a shorter waiting time from the dealership than Ford vans.
Also consider:
Height & Length
The standing height inside the van is 6" 2", and the bed length is 6" 1'. If you are bringing along a family of four, three dogs and all the adventure gear and toys, this van may be a bit of a squeeze for you.

Front Wheel Drive
It is front wheel drive – Unless you are planning on doing a lot of remote backcountry travel, AWD is not necessary. We have driven this van on dirt and snow-packed roads to get to our favorite camping and ski spots. Our conversion is fairly light in the back of the van, so front wheel drive works well under the weight of the engine.
Available Accessories
Add now, add later, or don't add any at all. It's up to you!



Passenger or Driver Side Vented Window (and curtain)


Goal Zero Yeti 1500x with optional Yeti Link






Bike Plate and Fork Mount


Financing
You can find your own van, or reach out to us to buy new through our dealership partners.
EXPLORE FINANCING OPTIONS
RAM ProMaster 136" Wheelbase, high roof, cargo van
20.5"L x 20"W x 18"H (seat), 33.5"H (backrest)
Approx. Wait for Dealership Van
New Van Price (can vary depending on vehicle options)
Complete Van + Conversion Price