Camping is one of the most enjoyable and economical ways to experience all the beauty America has to offer.
And yet, there's a lot to figure out when you're getting started…. Finding your ideal camping setup takes time, testing, and personal experience. I learned this first hand over eleven years of trying to perfect multiple tent, truck bed, and teardrop trailer setups.
Camping has been an integral part of my marriage and created countless experiences that my wife and I could never replace. Despite our mutual love for camping and spending time outside, we found ourselves camping much less the past few years due to the:
Time it takes to prep, load, and set up camp (plus breaking down, repacking, and unloading post-trip)

Lack of space and discomfort inside a small enclosure during cold and/or bad weather

Need to cook outside during said weather (e.g. trying to make dinner in 40 MPH winds, a lived experience several times over)

Inconvenience of going outside to pee
In 2022, we set out to identify our next camping arrangement, the 'end all be all' based on our learnings.
Each of the setups we've owned and rented has given us a unique perspective on what is critical, nice-to-have, and flat-out unnecessary. When it all boils down, we simply needed a vehicle that could solve the above and reinvigorate our love for making new memories together on the road.
A camper van conversion was, and is, the perfect solution. More pointedly, our Wayfarer Vans Walt is one of the best investments we've ever made in our relationship.
There are four main reasons that a camper van checks all of our boxes:
One – Comfort without complexity:
Electrical – We purchased a GoalZero 1500x which has been the perfect power station for our needs. We also added the YetiLink which charges the GoalZero while we drive. I love how simple this electrical setup is, especially after witnessing other friends navigate power issues in their complicated camper vans and travel trailers.
Warmth – We also added a Propex heating system which makes cold weather camping a regular event, and our Dometic 970 portable toilet stays out of sight in the boot box until bedtime comes around. No longer do we let out all the warm air for a chilly late night potty run.
Storage – Last, the van is always packed with 90% of our gear, toiletries, and basic pantry items, so getting on the road literally takes minutes, not hours. Cooking is a cinch on the kitchen galley and our cookware, plates, cups, etc, are all located in the cubbies just below. Cooking is a personal passion of mine and I love to gaze out the window with the driver seat swiveled and meticulously prep a dish. It's paradise.
I love what our Staff Accountant, Kaylene, says on the subject: "Our van expands the places that we can camp on weekends because we can leave after work with options. Sometimes, we make it all of the way without worrying about making it to camp in the dark because we don't have to set up anything. If it's even further, we drive part way, sleep in a pull off when we get tired, and have a short drive the next morning."
Two – Space:
Based on research, Wayfarer Vans are more spacious than other conversion companies. We can both move around freely and comfortably along with our 70 lb dog, Winston.
Our front swivel seats, in tandem with Walt's three high back boot boxes, enable us to fit five people in the van, each with their own seat, which has already created some wonderful memories on a soggy camping trip with friends near Salida, CO. The garage area in the 159" ProMaster is more than enough room to fit our mountain bikes and other accessory camping gear.
Last but not least, having a van takes away limitations of the sun's clock and provides a warm place with lights when the days are shorter as evidenced by this Wayfarian's feedback:
"Our van allows us to optimize being outside during daylight and do all of the "chores" when the sun isn't out. When we were in Moab, I enjoyed watching the sunset while all of our friends ran around like crazy trying to clean up dinner dishes, prepare the next day's gear, and pack everything up at the last light of day. We packed, cooked and cleaned later that evening with lights and music."
Three – Shared and Individual Experiences:
Another reason we've come to love the van is the ability to have shared and individual experiences. While my wife enjoys mountain biking, she's not always itching to ride multiple days in a row. After a day or two into a trip, she'll drop me at a trailhead to take on a big climb while she reads by a creek or checks out a nearby town. Upon reconvening, we share our stories in comfort over a glass of wine and dinner or a card game. Voila! It's the perfect way for us to 'find our groove' together or individually.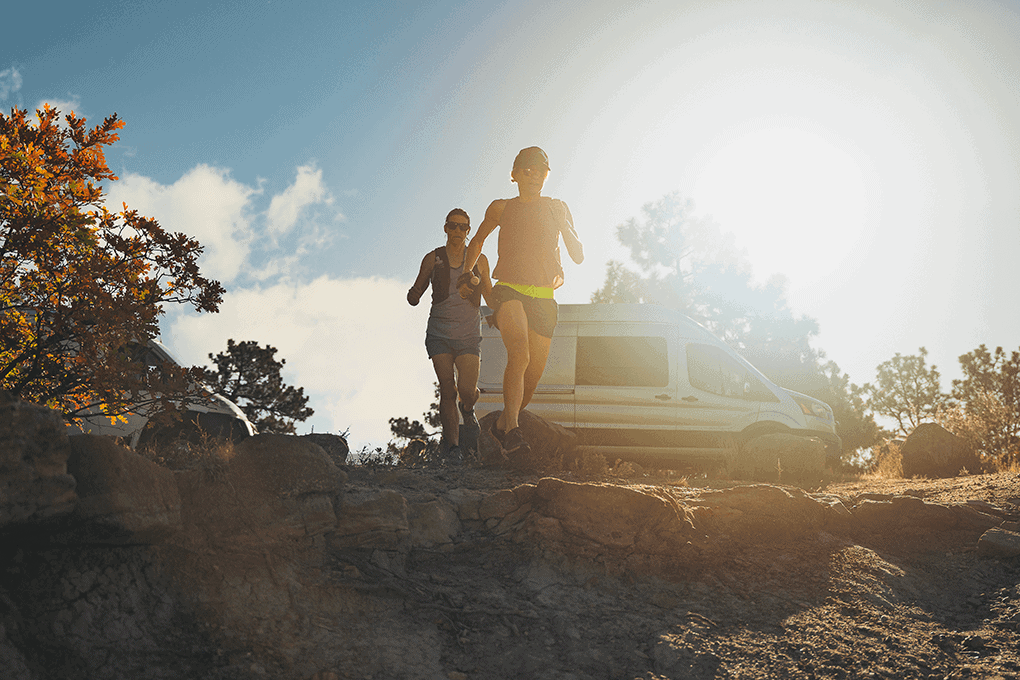 Four – Maneuverability & Storage:
Our ProMaster doubles as my daily driver. It has an incredible turning radius, gets better gas mileage than my previous pickup, and the insurance costs less! Even with the longer 159" wheelbase I'm able to park in normal city spaces and parallel park it when necessary. Best of all, our HOA allows vans which saves us the fee we previously paid to store our teardrop trailer (not to mention the time it took to retrieve it). I cannot say enough about the ability to just hop in and go! And for those unexpected late nights with friends or family, we've got a place to stay wherever we are, whatever the weather.
Says one of our longtime Wayfarians and repeat purchasers, "We traveled in a Wally for almost 6 years and loved it. We decided to step up to the Walter (136" ProMaster). Being able to stand and walk through the van is a luxury. The 136 wheelbase is perfect for us. It has a tight turning radius and is easy to park."
The Challenge of Convincing Your Partner
I paint this pretty picture because we absolutely love the van and the memories we're making in it. The reality is that it took more than a year of conversations to align on a camper van as the right choice.
Assuming this might be the case with other members of the Wayfarian Community, I set out to learn about others' experiences navigating the purchase journey with their loved one. And, as I hypothesized, many had similar challenges.
If you're considering a camper van conversion and have some "selling" to do with your partner or spouse, we've got your back!
Below, we pulled together pain points and misconceptions that Wayfarians encountered with their loved one and a few resources that might be helpful in your conversations at home.
We've broken them into the categories of 'more obvious' and 'less obvious' and shared direct thoughts from Wayfarians along the way.
The More Obvious Considerations
What is a camper van conversion going to cost?
It's no surprise that cost is the most common concern when it comes to purchasing a camper van conversion, especially given the need to also fund a van. The good news: Wayfarer Vans' simple philosophy and minimalist designs make us one of the most economical conversion options, starting at $20,000. And, we do so without sacrificing quality and modularity. Best of all, the camper build can be rolled into a new vehicle loan!
Calculating the cost of vacations also factors in. According to a New York Post article from June 2023, the average American spends $2,743 per trip and takes three a year. Hold the phone, that's over $8k! Another 2023 study commissioned by Go RVing and the RV Industry Association found average cost savings of up to 46% for a two-person travel party in an RV, depending on factors such as the type of RV and type of vacation.
To drive it home, one Wayfarian said this in our most recent survey: "I figure I have saved $20,000 in hotel bills with my Wayfarer Van."
Simply put, cost is multifaceted, as are the opportunities to lower it. Make sure to cover all the options with your partner or spouse!
Here's some final thoughts from other Wayfarians about the price of their Wayfarer Van to round things out:
"We looked at quite a few other conversion options and Wayfarer was the best combination of thoughtful and useful features, solid build, good looks, price, availability, and super nice people in the company."

"They're great! They have everything you need at an affordable price, they're well made, they're designed to get people outdoors, and the people running the company are super fun to work with."

"This is the biggest bang for your buck conversion package with the fastest turnaround time."

"They are the perfect price and setup for someone that does not want to spend a ton of money. And they still feel like I am camping."
Is it the right vehicle for our needs?
In general, camper vans are smaller, lighter, and nimbler than alternatives such as a Class A, Class C, or travel trailers. They're easy to drive and park, fit into smaller campsites, and can better navigate offroad options like forest service roads, greatly expanding your camping options.
When considering which vehicle is right for your needs, there are a few other variables to consider:

Do we need all wheel drive (AWD) or front wheel drive (FWD)?
If you are planning on doing a lot of remote backcountry travel, you may want to go with the AWD provided by the Ford Transit. That said, most folks find that the ProMaster's FWD is more than capable for travel on dirt, gravel, and snow-packed roads.
The ground clearance is similar on both vans, and while tires and load can change the exact measurements, most ProMasters have 7″ of clearance while Transits have 6″.
Do we need a shorter or longer wheelbase?
Wayfarer Vans' conversions are compatible with three different wheelbase lengths: 136" ProMaster, 148" Transit high roof and mid roof, and 159" ProMaster.
The shorter wheelbase options offer a more nimble driving experience in the city. The longer wheelbase options offer more room for living space and storage for toys like bikes and kayaks.
Assess your wheelbase needs based on where you live/park, where you'll drive most often, and how much gear you'll haul.
Do we need more or less standing room?
The lowest profile option available is our Wilma conversion for the medium-roof Ford Transit. It has 5'8" of interior height and a 6'1" bed.
Next up are the RAM ProMasters, each having an interior height of 6'2". Our ProMaster conversions each offer a 6'1" bed platform, and the 159" wheelbase van has an available 6'8" long bed option.
Our tallest option is the Wilford conversion for the high-roof Ford Transit with 6'4" of interior height and a 6'1" bed.
How long will it take to get a van?
Our team converts new and used vans, the latter 2014 or newer. The time it takes to get a new van varies but our Journey Architects (aka master matchmakers of people + vans) work with dealers across the nation to source new vans as quickly as possible. Oftentimes, we can find vans faster due to our network, and always have our finger on the pulse of what's available. Email our team at [email protected] to get the most up-to-date lead time on vans.
Should we buy a camper van conversion site unseen?
For those who live far from Colorado Springs, we understand that making a purchase decision site-unseen can give you pause. There's a few things we recommend to make sure you're comfortable and confident that Wayfarer Vans is the right fit for your adventures:
Visit the shop!
Nothing makes us happier than a good old fashioned visit with new friends! We are an easy 15-minute drive from the Colorado Springs airport and a 75-minute drive from Denver International Airport. Complete our contact us form to schedule a tour, see the vans, and determine which best suits your needs!
Watch Our Youtube Videos
We're always producing new videos for our Youtube Channel to provide education on all things Wayfarer and show the details of our high quality conversions. Check out our 60+ videos, subscribe to the channel for regular updates, and comment any topics you'd like us to cover in future videos!
Use Our 3D Van Builder
Our 3D van builder tool is a handy way to see all the layouts, features, and accessories available for each conversion we offer. You can save a PDF of your build at the last step and get a unique link to revisit it online anytime.
Join the Wayfarer Vans Fans Facebook Group
Started and managed by members of our Wayfarian Community, this group offers photos, ideas, modifications, gear, tips and tricks, and joys of owning a Wayfarer Vans conversion. There's no better place to ask questions and connect with Wayfarer Vans owners and enthusiasts! You can even toss a new post up on the page to share your location and see if a Wayfarian in your region would meet up for a quick tour of their dream adventure van. Join the group here.
Consider Nationwide Pickup & Delivery
Last but not least, we offer a nationwide delivery program that includes up to $2,000 in pickup or delivery (one-way) on our dime. That's right, we will literally pay for your van shipment one-way up to two grand! You can ship your van to us, fly to Colorado Springs or Denver International, and start the road trip of a lifetime! Or, purchase a van through one of our local dealership partners and have it shipped back to your home when complete.
Where are we going to store the van?
The beauty of a camper van conversion is your ability to store it in a driveway or street without impeding on other neighbors or traffic. With average garage doors being 7' tall, it's unlikely you'll fit your van inside, however the average American driveway is 18-20' in length, accommodating any of our conversions. For those without a driveway, street parking is a convenient option.
Have a HomeOwners Association (HOA)? You'll want to check your community rules but our observation from fellow Wayfarians is most HOAs allow a camper van.
What if I need to use the bathroom or take a shower?
If you've made it this far, you're surely picking up on our philosophy of simplicity. Bathrooms and showers do not fit this mindset, period! Introducing plumbing takes a simple camper van and turns it into something that requires regular maintenance and attention. And, a dedicated bathroom will take up a significant portion of your interior despite being inside it only several minutes a day.
For bathroom needs, many Wayfarians (myself included) keep a basic cassette toilet stored away in their boot box for an easy solution to #1 needs (and #2 in an emergency). We recommend the Dometic 972 Series for its compact size and functionality. Set it out before bed or on-the-go as needed.
Our unofficial slogan should read 'no bathroom is no problem!'
In need of a shower on the road? There are lots of options that might not be obvious to the new traveler:
Gyms:

Grab a nationwide gym membership or pay for a day – gyms like Planet Fitness and 24 Hour Fitness have hundreds of locations across the U.S., and most offer a full shower facility. Needing a

one-off shower versus long term access? Most also offer a free one day trial so you can get that shower at no cost. Secret is out!

Truck Stops:

most truck stops and travel centers have showers ranging from $10-15.
State Parks & Campgrounds:

if you're near a campground or state park, check and see if they offer a shower facility. Many do, and it can be worth the price to stay overnight and have that access along with other amenities like wifi and laundry.
Outdoor Showers:

in warmer weather, consider an add-on accessory for the exterior of your van that allows you to shower in nature. Considerations include the

Yakima RoadShower

or

RinseKit

paired with an

Ensuite Shower Tent

. It's a great way to clean up without leaving camp.

Hotels & AirBnBs:

with all the money you'll save in recurring hotel rentals, splurge on a mid-trip stay for a hot shower and some van reorganization!
For more thoughts, check out this blog on bathroom and shower solutions that offers additional perspective.
Is this the right time to make this investment?
We'll keep this one simple with this feedback from our fellow Wayfarian, Lanny, when asked why he and his wife chose to purchase a camper van conversion:
"For us, it was a deeply considered conversation based around the idea that we are not getting younger, camping is not getting easier, and that having money at retirement is useless if you can't enjoy it. TODAY is the day to start having experiences. We've seen too many friends and family wait for the "right time" to start enjoying life only to have health issues arise and make it impossible. Viewed in that light, it was a straightforward decision."
The Less Obvious Considerations
Do we need the comforts of home on the road?
If it's important to your significant other to have all the creature comforts of home while traveling, Wayfarer Vans might not be for you. Our conversions are intentionally simple and high quality, offering everything you need without unnecessary features and complex onboard systems. After all, we want you to spend time outside doing what you love, not sit inside your van all day!
Here's what Wayfarians have to say on the subject:
"Be sure you want a fairly primitive set up for your needs. This is not an RV in the traditional sense but that's the best part. Know the trade-offs involved (e.g. there is no shower but there also won't be any plumbing problems)."

"If you want a campervan that is simple, roomy, and reasonably priced, check out Wayfarer before looking at the fully converted vans. We have had many comments from folks with the tricked out vans about things breaking and lack of room."

"The simplicity translates into a wonderfully reliable rig. I really appreciate the new anesthetics the team has incorporated into the cabinets. Basically, the Wayfarer Vans have everything you need and nothing you don't need."
Should we build the camper van ourselves?
Having built multiple campers myself, I wrote this detailed blog on 5 key considerations before DIYing a campervan. Here's a quick synopsis:
Skills: it's absolutely possible for anyone to DIY a campervan, but if you've not done it before, you can count on making mistakes, underestimating the knowledge it takes to do it right, and having it take longer than you want. Google other people's experiences to see for yourself. Wayfarer Vans conversions are installed in a day which means no headaches and a fast road to new memories!
Materials: As professional camper van builders, we have access to wholesale pricing on materials, savings that are passed on in combination with our expertise and a decade of experience. Even with a modest DIY budget, material costs will add up quickly, especially if mistakes are made.
Time: A basic camper van conversion requires 300+ hours to build with higher end conversions taking 1,000 hours or more. At $50/hour for your time, a higher end DIY is $50,000 in labor alone. For a base price of $20k, Wayfarer Vans provides a complete, professionally installed conversion with a warranty.
Tools: Guess what, it takes a lot of tools to build a camper van conversion! That's more money and storage if you don't have them already. See the blog for a complete list of foundational tools you'll need to purchase before a DIY build.
Location: You'll need a place to build the camper van, and it can be difficult to stay protected from an unexpected storm or heavy wind as much of the cutting and furniture assembly will occur outside. If your space is limited and you lack storage for tools and materials, a turnkey conversion is a much better option.
Is it going to be high quality and hold up over time?
In 2023, Wayfarer Vans launched our second generation design following eight years of production and feedback from nearly 1,000 Wayfarians who put their camper van to the test every day.
To us, a high quality camper van product means:
High quality materials (duh!) – durability, appearance, function, and overall aesthetic

Adaptable features – modular components and structurally sound framework with the ability to hang and install accessories on existing furniture components without fear of things breaking

Simplicity – products that stand the test of time without ongoing maintenance and adjustment

Positive feedback – less time fixing = more time adventuring! It's what we want for ourselves, and for every individual who joins our Wayfarian community
In addition to offering a simple, hassle-free interior, Wayfarer Vans takes pride in our hands-on design process that values direct input from the experiences of our customers and team members.
Here's another blog that goes into great detail on our build processes and material selection.
In Summary
There's a lot to discuss with your significant other when it comes to deciding on a camper van conversion. We hope this information helps you navigate the conversations ahead. And, our Journey Architect team is always standing by to answer any and all questions about your adventuring needs. Complete a Contact Us form and they'll be in touch ASAP.
We'll close it out with this final bit of feedback from a current Wayfarian:
"If you're interested in simplicity, economy, and a quick delivery, nothing compares with Wayfarer. Other companies are beginning to copy their business plan but Wayfarer's head start, experience and ease with which they evolve keep them a long way ahead. The founder and key workers are all accessible and willing to engage. Feel free to reach out to them, ask questions, and take a tour. There aren't many companies as open and transparent as Wayfarer Vans."